About Us & Program Application
Mission Statement/History/Program Application
To promote the importance of maintaining a healthy and quality lifestyle; to support quality education in science, health, math and technology; to continue the effort of fostering community values by sharing knowledge for the advancement of our people and for community empowerment and prosperity.
Background
The TTT Mentor Program was established in 1996 to supplement classroom teachings in science, technology, engineering and mathematics (STEM). Out of the classroom STEM activities are organized where the student performs tasks equivalent to and/or in addition to those tasks of their classroom experiences.
Each year the program offers a variety of STEM activities to 12 – 14 Cambridge and greater Boston students in grades 4th – 7th with their parents, to study in small groups with an assigned mentor. The main goals are to improve overall academic achievement in math and science, promote self esteem and self confidence; to increase and develop skills used for problem solving, science project investigations, science lab techniques and oral presentation and, to promote an appreciation and interest beyond grade school and high school and after college graduation – finally a STEM career.

Together with the guidance of the mentor, from September through January the student practice solving math problems in a 6-Week Math class studying fractions, decimals, pre-algebra and geometry followed by a 10-Week Science Project Development class to prepare the student for their presentation on "Project Day" in January. The remaining months February – June are scheduled additional lab classes and activities in technology, engineering and the other sciences at various sites: MIT and in the Cambridge and Boston Communities.
The TTT Mentor Program's volunteering mentors are STEM students at a local university or STEM career professionals. and also serve as role models for the TTT Mentor Program's students.
The program is a volunteered run organization and collaborates with Cambridge and Boston community organizations: e.g. the Museum of Science – Boston, Departments and offices at MIT, Cambridge Police Department, and Cambridge Public Library in Central Square. The program is sponsored in part by community businesses and friends: Community Innovative Lab - CoLab@MIT, South End Technology Center@Tent City, MIT Community Service Fund, Cambridge Cable Television (CCTV), Dr. Julia Steinberger MIT'04, and Joanne Gregory at MIT.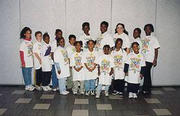 Dates and Places - Application Procedures
Applications for the TTT Mentor Program for the academic year are accepted and reviewed between February and August. Parents will be notified by mail or email no later than the last week in August. Once the math classes begin, no student will be allowed to apply for the current year.
The Math and Computer Science Project Development Classes are open only to enrolled TTT Mentor Program students and parents. However, the public is invited to participate in all the activities from March through June. An application with guidelines can be downloaded from this page.

The six-week math class begins the first Saturday after Labor Day and ends in October. Starting in October the students will be engaged in a 10-week preparation class working on their science project for presentation and competition which is held annually on the fourth Saturday of January. The Science Project Development classes this year will be held on the MIT campus. And, the science projectt presentations are held at MIT, 77 Massachusetts Avenue, Stella Conference Room, 7-338, Cambridge, MA. 12:00 pm - 2:30 pm. The public is invited to this "Project Day" event. The mentors, judges, and students will receive certificates for their participation and achievements and a light lunch is served. If you have questions, please do not hesitate to contact us via email tttmentorprogram@yahoo.com.

To view the lists of students, parents, mentors and volunteers go to the top of this page and click on the appropriate title.
Application
Links to Other Sites